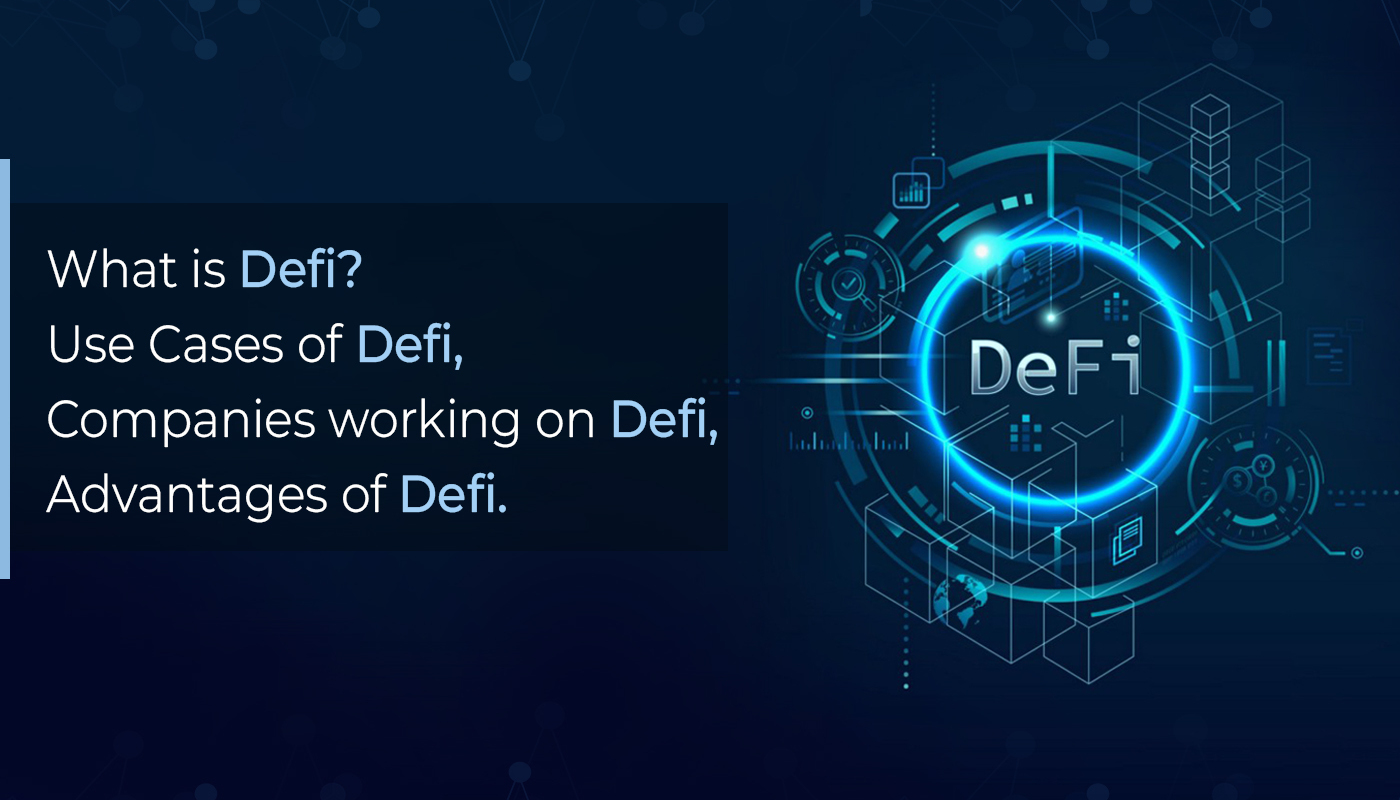 Decentralized Finance (DeFi)
What is DeFi?
Decentralized finance (DeFi) is a new financial system that is built on secure distributed ledgers, similar to those used by cryptocurrencies. DeFi's goal is to build an entirely new financial system that is completely independent of the old financial (TradFi) industry.
DeFi is a cryptocurrency movement that is available to anyone on the globe and is based on cryptocurrencies such as ether (with an internet connection). DeFi is a trustless application, which means that it is neither controlled nor hosted by a third party, such as a bank or the government. Cryptography, smart contracts, and blockchain technology enable this system of decentralized finance to exist and be used by the worldwide community.
The key points of DeFi are:
Decentralized finance, or DeFi, employs developing technologies to eliminate the need for third parties in financial transactions.

DeFi is made up of stablecoins, software, and hardware that allows for the development of applications.

The infrastructure for DeFi, as well as its regulation, is currently being developed and debated.
How Centralized Finance differs from Decentralized Finance
Centralized Finance
Banks, corporations whose ultimate objective is to make money, hold your money under centralized finance. Third parties who enable money flow between parties abound in the financial system, with each demanding a charge for their services.
Decentralized Finance
Decentralized finance eliminates the need for intermediaries by allowing individuals, merchants, and organizations to execute financial transactions using developing technology. This is performed using peer-to-peer financial networks that employ security protocols, connections, software and hardware improvements, and so on.
Top Use Cases of DeFi
Asset Management
This enables the purchase, sale, transfer, stake, and earning of interest on digital property.
Compliance And KYT
Provides know-your-transactions (KYT), which records transaction behaviour rather than user identity.
Analytics And Risk Management
Aids in the analysis of data for risk assessment and reduction.
Derivatives And Synthetic Assets
Enables the production of tokenized derivatives with increased security.
Infrastructure Development
Provides tools for developing, integrating, and compiling blockchain solutions.
Digital Identity
This provides a secure and private portable self-sovereign identity.
Peer to Peer Borrowing and lending
Ensures high-interest peer-to-peer lending and borrowing with low risks.
Decentralized Organizations
Fundamental financial operations are managed by decentralized administrative organizations.
Some companies that are working on DeFi
Techsolvo
We're also eagerly working in Decentralized Finance also Techsolvo is a Top Rated Blockchain Development Company that provides associations of any size and business area with blockchain-controlled dispersed frameworks. Create a new blockchain project from the beginning or change existing arrangements with the assistance of a dependable accomplice. We maintain our procedures simple, open, and consumer-based because we have a love for innovation and a desire to tackle the most complicated issues. As a top-rated blockchain development company, we manage every element of your business is handled by our specialized staff. We may provide a selection of creative technology transformations that will contribute to your company's daily activities as a result of our accumulated efforts
Coinbase
Coinbase makes it easy for the average person and business to use the digital currency Bitcoin. Coinbase, Inc. provides Coinbase, a digital wallet, and payment solution for people to pay and receive payments.
DFX
DFX is an Ethereum-based decentralized exchange system (similar to Uniswap) that uses real-world FX price feeds to create a dynamically tailored bonding curve ideal for fiat-backed stablecoins (such as USDC, CADC, EURS, XSGD, and others).
Jeeves
Banking is designed specifically for international start-ups. Until now, coordinating payments among your multinational staff has been a difficult undertaking. For foreign entrepreneurs, we've designed the ideal all-in-one expenditure management solution. You can pay for anything, anywhere, at any time.
Alliance Block
AllianceBlock is a community-driven and fully transparent decentralized AI-powered investment ecosystem. We're shaking up the investment banking industry by giving businesses a simple, low-cost, and transparent means to raise and issue "smart" capital.
Advantages of DeFi
Decentralized finance uses the Ethereum blockchain's main principles to improve financial security and transparency, open liquidity and development potential, and promote a unified and uniform economic system.
Programmability
Smart contracts, which are highly programmable, automate execution and allow the development of new financial products and digital products.
Immutability
Alter-proof data across the whole blockchain network increases security suitability.
Interoperability
DeFi protocols and apps are built to integrate and complement one another thanks to Ethereum's composable software architecture. Developers and product teams can build on top of existing protocols, adapt user interfaces, and integrate third-party applications with DeFi.
Transparency
Every transaction on the public Ethereum blockchain is broadcast to and confirmed by other users on the network. This level of transaction data transparency not only enables rich data analysis but also ensures that network activity is visible to all users.
Permissionless
Unlike traditional finance, DeFi is distinguished by its open, permissionless access: anyone having a crypto wallet and an Internet connection, regardless of location and frequently without a minimum quantity of funds necessary, can access DeFi applications.
Self-Custody
DeFi market participants maintain custody of their assets and control of their personal data by interacting with permissionless financial applications and protocols via Web3 wallets such as MetaMask.
Admin

May 2, 2022

28 comments